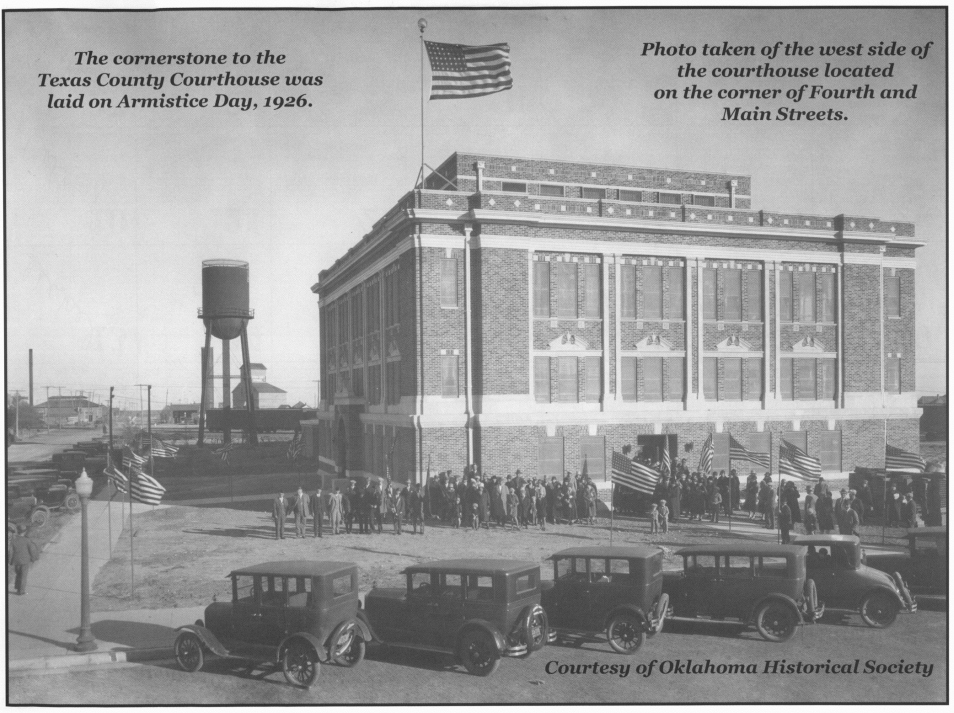 Texas County was formed at Oklahoma statehood (16 November 1907) from the central one-third of "Old Beaver County". When the formation of the county was authorized by the Constitutional Convention of 1907, the county was so named because it was wholly included within the limits of the Texas Cession of 1850, whereby the ownership of the area was passed from the State of Texas to the United States Government. From 1850 to 1890, its lands were never attached to any state or territory, never surveyed, and never divided into townships and sections like the eastern counties were. From 1890 to 1907, it was part of Beaver County.
According to the U.S. Census Bureau, the county has a total area of 2,049 square miles (5,310 km2), of which 2,041 square miles (5,290 km2) is land and 7.4 square miles (19 km2) (0.4%) is water. It is the second-largest county in Oklahoma by area. The county lies in the High Plains of the Great Plains physiographic region. It is generally flat, but has some rolling hills. It is drained by the North Canadian River, often called the Beaver River in this area. Tributaries of the river are Coldwater, Hackberry, Goff, Teepee, and Pony creeks.
Cattle raising was the most important economic activity before and after statehood. Farming rose in importance after the 1890s. Despite the occurrence of the Dust Bowl these two sectors have recovered and prospered. By 1990, Texas County led the state in producing grain sorghums, with 4.2 million bushels, or one-quarter of the state's harvest, and was the state's fourth-largest wheat-producing county, harvesting 10.3 million bushels. By 1997 it was the state's top producer of both hogs and cattle.Petroleum exploration began in 1922 and resulted in natural gas production from the Hugoton-Panhandle Field. The county remains the nation's largest producer of natural gas.
The Oklahoma Legislature created the Pan-Handle Agricultural Institute in 1909, offering secondary agricultural education for the Panhandle area. In 1921, the legislature changed the name to Panhandle Agricultural and Mechanical College and authorized the school to offer a two-year curriculum. In 1925, the State Board of Agriculture authorized upper division college courses, and in 1926, junior and senior level courses were added. The school name has been changed twice since then, to Oklahoma Panhandle State College of Agriculture and Applied Science (OPSU) in 1967 and to Oklahoma Panhandle State University in 1974.The school is in Goodwell.
Communities in Texas County consist of the cities of Guymon and Hooker, the towns of Goodwell, Hardesty, Optima, Texhoma, and Tyrone and the unincorporated communities of Adams, Baker, Eva, Four Corners, Hough, Mouser, and Muncy. - Click here to read more